How Māori Pasifika Trades Training can change lives
How Māori Pasifika Trades Training can change lives
Last updated 5 May 2017
Last updated 5 May 2017
The Māori and Pasifika Trades Training (MPTT) scheme provides scholarships to Māori and Pasifika learners to acquire the skills and attributes to gain trades-based employment, take up New Zealand apprenticeships or move to other higher-level training programmes.
The Māori and Pasifika Trades Training (MPTT) scheme provides scholarships to Māori and Pasifika learners to acquire the skills and attributes to gain trades-based employment, take up New Zealand apprenticeships or move to other higher-level training programmes.
WelTec and Whitireia are just two institutes of technology and polytechnics around the country offering MPTT. Here we profile five young people whose lives have been changed by this training scheme.
A pathway to lifelong learning
On 6 April this year Tise Leota was awarded WelTec's Top Pasifika Award (the Poasa Memorial Award) at a ceremony at the Michael Fowler Centre in Wellington. Tise has just graduated with a Bachelor of Applied Management (Strategy and Accounting) and is the first recipient of the Poasa Memorial Award.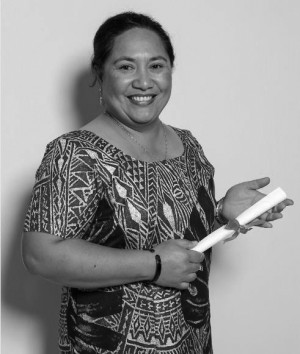 "My Samoan culture means a lot to me and this award will encourage my children to study hard for their future. I met the Poasa family who are also from Samoa and they are really glad their award in memory of their daughter is going to a Samoan for the first time."
Tise acquired a taste for business and transactions early on in Samoa where she helped her parents sell their crops through the family store and at the town market. After migrating to New Zealand in 2002 with a new husband and young baby, she soon found herself stuck at home, bored and with very little income.
"I prayed please God help me find a way to help my family." Tise started baking panikeke, steam Pacific pork buns, and selling them at a market stall. Her friend invited her to cater Pacific food for the Pacific Trades Training Scholarship open day at WelTec and Tise heard about the fees-free trades training.
"I enrolled right away because I could see that having plumbing, gas fitting, painting and decorating skills could be really useful as I grew my food cart business," she says.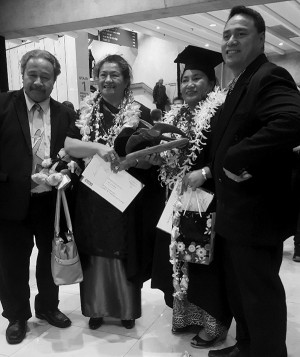 She was the first female graduate with a Pasifika Trades Training scholarship in these trades and it set her firmly on a long-term path of learning. Three diplomas and one degree later, Tise is now considering enrolling in a Masters at Victoria University, Wellington.
With encouragement from her WelTec tutors, she is also planning to take her Pasifika food business to the next level with a permanent shop premises. Later she plans to start a home-based tax accountancy business. "There are a lot of Pasifika taxi drivers out there who need someone to do their tax return."
Learning to be self-motivated
Mason Henry left Hutt International Boys School in 2015 knowing he wanted to try something different. He thought plumbing might be interesting – and possibly a bit more than just fixing toilets.
With an MPTT Scholarship, Mason completed a Certificate in Plumbing, Drainlaying, Gasfitting and Roofing at WelTec last year. Mason then approached local firm Brockelsby Plumbing for work experience.
"I was impressed with his initiative and offered him a 90-day trial," says owner Graham Purvis.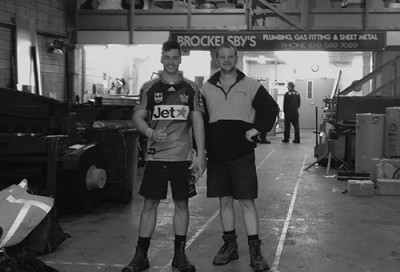 Mason is now working as an apprentice for Graham several days a week. Brockelsby Plumbing employs three other apprentices as well. Graham says the firm is strongly committed to supporting training and sees the MPTT as a good way to source decent apprentices.
"WelTec gives them a feel for whether they are going to like the trade and ensures they have their eyes wide open. When they're at high school they get used to someone making them do stuff. The MPTT teaches them to be self-motivated and ready for the workforce. The big thing about Mason is that he's got a 100 percent attendance record and that's a great start."
Mason is enjoying plumbing so far because it's hands on, physical work and not an office job. He thinks he might try having his own business one day.
"My mum and dad love that I'm doing this."
Forging the way for women in the building industry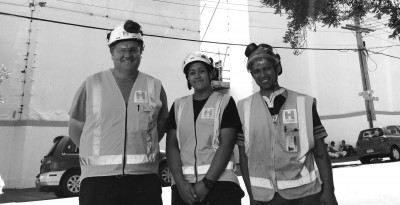 Azaria Felagai has gone from carpentry training at Whitireia last year to working on projects for construction firm Hawkins.
"I've learned so much right from my first day. When my colleagues mention certain timbers or parts of the building, we covered that on the course so I have a good idea of what they're talking about," she says.
A MPTT scholarship allowed Azaria to study the pre-trade Certificate in Carpentry qualification last year at Whitireia.
"We learned the basics of carpentry. It got us used to using the tools that I use now on the job," she says.
The 18-year-old says she didn't really have an idea of what she wanted to do after finishing school, however, her dad had encouraged her to follow her interests.
"My dad pushed me to do it. He does a lot of work around the house and I've always helped him with that. I'd also built a chair for school and everyone said 'oh, you're really good at that'," says Azaria. "I also already had friends signed up for carpentry. It's worked out great for me."
Matt Wilton, Hawkins Wellington Regional Manager, strongly endorses the MPTT scheme, "It's providing a significant and much needed pipeline of talented women and men into our industry.
"Getting more women in careers like trades is very good for women, but it is also good for the New Zealand construction industry where there is high growth and high demand. Women bring a different set of abilities that helps to broaden a company's overall set of skills," he says.
A new start and hard work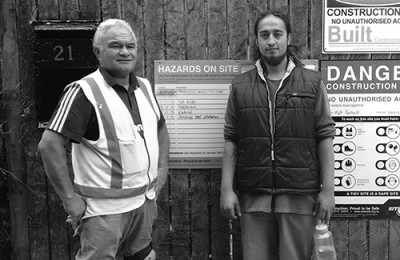 One day working in the IRD call centre, Mohi Chambers found himself feeling envious of the "tradies" working outside in the sunshine. "I wasn't really enjoying being stuck in an office and I wanted a new start. As I'd studied for my business and marketing diplomas at WelTec, I went straight to their website and looked at my options. I saw that the MPTT scholarship would allow me to study level 3 carpentry for a year fees-free and so I enrolled."
Mohi is now in his third year of an apprenticeship at Wellington firm, Built Construction Group, which specialises in residential building and shop fitting.
"It's going really well. We're a tight knit crew with five of us on tools, one in the office and the boss."
A WelTec tutor does a site assessment every six weeks to test Mohi's knowledge and Mohi attends night class every Monday. He is also the company's health and safety rep and does all the site inspections.
Mohi and his partner have just secured a home loan so they can buy and renovate their first house. He can imagine doing a foreman's job in future or, if physical work becomes too demanding, using his health and safety knowledge.
"That year at WelTec allowed me to sign off a lot of credits, I learned how to build a house, handle tools and structure my days. The tutors gave us a lot of good advice too, like when you're an apprentice never stand still, always find something to do even if it's sweeping the floor."
"I am surprised at how much my mental attitude has changed. When I think back to what I thought hard work was a few years ago, I just had no idea."
Being a sparky runs in the family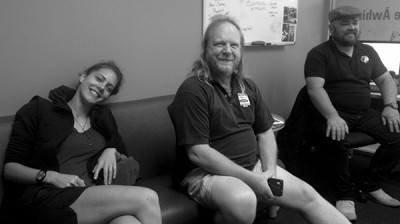 Kahu Salzmann isn't bothered that she's the only girl studying electrical engineering at WelTec under the MPTT this year. "The guys are pretty chill," she says. Nor is she bothered about working for her dad who owns Axel Electrical.
"No one expected me to do a trade. I've always been sporty and thought I might become a personal trainer when I left school. But then I thought how I enjoyed helping my dad last year one day a week and why not become an electrician instead. My dad does it, his dad did it, it's a family thing."
Kahu works two days a week at Axel Electrical and spends the other three days at WelTec. She says so far it's going okay. "It's good to be out of the house and doing something, not just sitting around all day."
Dad Axel says it's early days for Kahu and it will be a while before she has acquired enough skills to start really making a contribution. "But she's loving being with the cool crowd," he says with a proud grin.
More information
Read more about the Māori Pasifika Trades Training.