The korowai system map
The korowai system map
Last updated 21 April 2023
Last updated 21 April 2023
The TEC is committed to supporting a strong and vibrant VET system that honours Te Tiriti o Waitangi. We use the korowai system map to illustrate the structure of Aotearoa New Zealand's VET system and the place we all have in ensuring its positive impact and success. The korowai is used to signify how the system wraps around the learner, their whānau, iwi and industry to deliver the skills that learners, employers and communities need to thrive.
Underpinning the system (the korowai) and the way it operates (is woven together) are key shared values: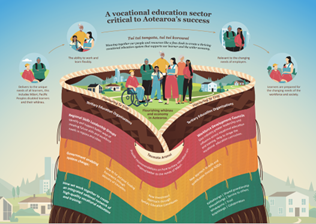 Kaitiakitanga – shared guardianship
Learners are provided with a caring environment that encourages them to have a connection with the training they receive.
Whakapono – trust
Learners and employers should trust that the system delivers training and skills that meet their needs and are relevant to their region.
Manaakitanga – service to others
The focus of vocational education is to support learner wellbeing and benefit the economy and wider community.
Kotahitanga – collaboration
The vocational education system has a collective responsibility to support individuals to achieve their aspirations, and this can only be achieved by collaboration between TEOs, employers and learners.
Learn more about the korowai system map.