Industry leading Workforce Development Council establishments
Industry leading Workforce Development Council establishments
Last updated 31 March 2020
Last updated 31 March 2020
One of the key changes of the Reform of Vocational Education (RoVE) – the biggest change to vocational education in a generation – is the establishment of Workforce Development Councils (WDCs) as the voice of industry.
One of the key changes of the Reform of Vocational Education (RoVE) – the biggest change to vocational education in a generation – is the establishment of Workforce Development Councils (WDCs) as the voice of industry.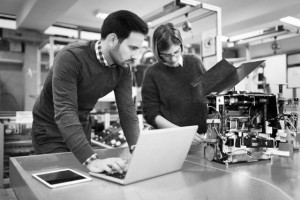 The future of industry holds enormous potential. From artificial intelligence to automation and virtual reality to robotics, the possibilities are endless and will require skilled and adaptable workers to make the most of the emerging opportunities.
Six WDCs will be right at the heart of this evolution, helping industry to take a lead in making New Zealand's workforce fit for today and the future. Skills leadership plans will set a vision for the workforce and influence the vocational education and training system.
While the new Education (Vocational Education and Training Reform) Amendment Act 2020 doesn't begin until 1 April, industry is already playing a pivotal role in developing WDCs.
Establishing Workforce Development Councils
All six WDCs will be up and running by mid-2021, which means there is a lot of valuable work to do in the coming weeks and months. The RoVE programme team was delighted to kick-off a key part of the work recently with an Expression of Interest (EoI) for the WDC design process. Just over 200 applicants shared their aspiration to be part of developing the design options for WDC operational models, which will inform how the WDCs are established.
The Design Group and the Reference Group contribute to different parts of the design process. The Design Group, consisting of skills based participants and subject matter experts, will create initial design options. The Reference Group, consisting of a wide group of stakeholders including currently underserved learner groups, employers, industry representatives, unions, providers and senior leaders, will test and refine the Design Group's initial design options to ensure they are fit for purpose.
"We are delighted to have attracted and engaged a strong balance of skills and experience in each of the teams. The calibre of applicants was very high and it was difficult to shortlist and select the final candidates," WDC Lead Jane Duncan says.
"Our selection process has achieved a good mix of stakeholders. The successful candidates are future-focused thinkers, good communicators, innovative and visionary, and collaborative in their mind-set."
The first Design Group meeting is on 26 March and the first Reference Group meeting is on 30 April. It is expected the design process will run until September 2020.
As this process gains momentum, the WDC team is also working on the process for the Establishment Working Groups. "There will be six establishment working groups – one for each WDC – and they will be responsible for coming up with the WDC name, governance model, finalising coverage, and process for members to be appointed to the WDC boards," Jane says.
Industry Training Organisations
As well as making encouraging progress with the WDC establishment, the RoVE WDC team is also working with Industry Training Organisations (ITOs) on their transitions. ITOs are currently responsible for arranging training for people in the workplace and for setting standards. On 1 April, ITOs will become transitional ITOs and by the end of 2022, their arranging training function will have shifted to providers and standards setting functions to the new WDCs.
"We are committed to working closely with ITOs as they develop their ITO transition plans. These plans are integral to achieving a well-managed shift of their functions over to providers and WDCs. This will be a phased, carefully managed transition to ensure the skills pipeline isn't disrupted and the shift is seamless for employers and learners. In the short-term, there is no change to training arranged by the ITOs. For example, hiring and training apprentices and support for training arrangements through the ITOs will continue," Jane says.
The RoVE WDC team continues to meet with ITOs every month to design and share information to ensure a seamless transition for employers and learners. New information will continue to be made available on the TEC website.
Have you seen…?
If you're looking to confirm which WDC your industry belongs to, check out the spreadsheet we've developed that details how industries have been assigned to WDCs based on the Australian and New Zealand Standard Industrial Classification (ANZSIC) 2006. We're busy working on an interactive tool that will make your search even faster in future, so watch this space!