Creating A New Funding System
Creating A New Funding System
Last updated 25 June 2020
Last updated 25 June 2020
At the moment, New Zealand has two vocational educational systems and each of these systems is funded separately.
Learners either complete their studies through Industry Training Organisations (now Transitional Industry Training Organisations) which support on-the-job training, or through providers supporting primarily off-the-job training, including the 16 Institutes of Technology and Polytechnics (now under the New Zealand Institute of Skills and Technology), wānanga, universities, and Private Training Establishments.
It is very difficult to transfer between these two systems, which limits opportunities for learners and creates extra barriers for employers.
The Unified Funding System project is working to create a single unified funding system for all tertiary organisations. This new system will be simple, relevant and responsive to learners and employers.
How the new UFS could work in the future
Unified Funding System (PDF, 661 Kb)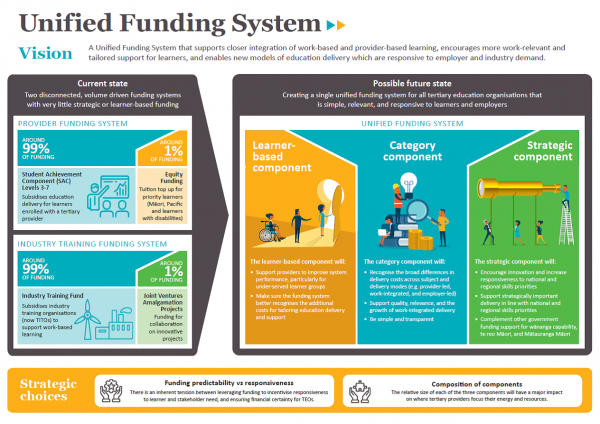 Any funding system for the new tertiary education system will need to:
Support integrating learning and work – so that tertiary education providers are more responsive to the needs of employers and the workforce, learners can move seamlessly between delivery options, and people who learn in a workplace have access to robust teaching and learning
Respond to the needs of all learners – which requires funding that is tailored to different learner needs
Support the creation of an innovative, sustainable network of public provision for all regions of New Zealand
Fund all tertiary education organisations delivering provider-based and/or work-integrated education at certificate and diploma qualification levels 3 to 7 (excluding degree study) and all industry training
What we've done so far
Over March and May, the team held a series of workshops and online sessions with sector experts to inform the design of new mode-based funding category classifications for the Category component of the UFS. These discussions were very useful and the information we received will inform policy advice, operational design work, data collection and modelling, prior to final policy decisions. You can read the summaries of these workshops on the UFS page.
Following previous workshops, Ministry of Education officials have also been working hard coming up with proposed ways to create the Strategic and Learner–based components.
We've also been supported and guided by our Funding Reference Group, comprised of experts from across the sector. This group has been helpful in testing our assumptions and giving feedback on our proposals.
The information and feedback gathered will help to inform our work and feed into the initial policy advice being submitted to the Minister in mid-July.
Next steps
The Minister will consider the work we have carried out over the past months. Following that, we will pick up the conversation again with the sector and employers to continue the development of the UFS to create a simple, relevant and effective new funding system.